Technical Approval of Highway Structures
Introduction
This section explains the requirements for the Technical Approval of Highway Structures and provides guidance for developers and their designers on the Technical Approval procedures within the City of Westminster.
The Technical Approval process applies to the design of all structures located over, under or adjacent to the public highway. The term "design" shall include the assessment, strengthening, alteration or repair of existing structures.
The objectives of the Technical Approval procedures are to ensure, as far as reasonably practicable, that highway structures are safe and serviceable in use and fit for their intended function.
The City of Westminster operates a self certification scheme for the design and checking of highways structures. Technical Approval (TA) procedures are applied in accordance with Department for Transport (DfT) Standard BD: The Technical Approval of Highway Structures.
The process for documentation is dependent on the category of the structure. These categories are graded from 0 to 3 depending on the complexity of the structure as defined in BD2. Before the Technical Approval procedure can commence payment is required to cover all costs likely to be incurred. A schedule of rates is available to download here.
The Technical Approval process is administered by FM Conway on behalf of Westminster City Council.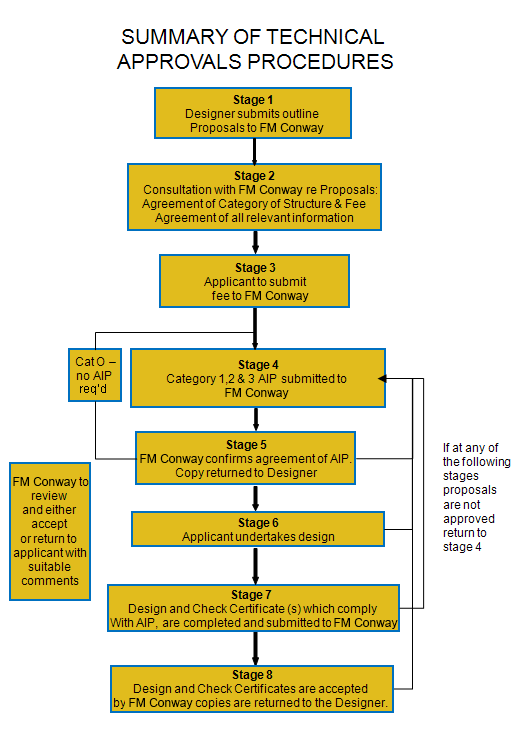 Design Requirements:
The technical requirements for the design of highway structures shall generally comply with the relevant standards and advice notes in the Design Manual for Roads and Bridges and be constructed in accordance with the Specification for Highway Works. Other standards etc proposed shall be agreed with FM Conway (Westminster City Council's service provider) through the Technical Approval process.
Approval in Principle (AIP):

The AIP submission shall be a record of all matters agreed at the Proposals stage. This shall generally include the Technical Approval Schedule, location plan, general arrangement drawing, relevant parts of the geotechnical report, documents relating to consultation and any other relevant information.
When to apply for technical approval:-
For Permanent and Temporary Works
At commencement of project initial application made in advance of starting on site – submit Approval in Principle for review and approval.
At detailed design – submit Design and Check Certificates for acceptance.
Notes:
(i) A load assessment will need to be undertaken for existing structures that are to be retained and incorporated in the building without modification.
(ii) Commencement of works prior to receiving technical approval (acceptance of Design and Check Certificates) is carried out at the developers own risk and may be subject to change in order to comply with Westminster City Councils requirements, incurring cost and programme delays.


Fee Levels and Payment:
1) Fee level 1A Approval In Principle (no departures from standard): The Approval in Principle (AIP) is required for all structures (including temporary structures), regardless of Category.
2) Fee Level 1B Approval In Principle (with departures from standard): Category 2 & 3 structures which contain departures from established standards and criteria shall require an AIP charged at the appropriate fee level plus an hourly rate.
3) Fee Level 2 Technical Approval: This stage shall consist of the approval role up to and including certification.
4) Fee Level 3 Site Inspection: Periodic site visits will be required through the duration of the works. These fees are payable regardless of the number of inspections undertaken. Operations requiring inspection shall be agreed prior to commencement on site. A minimum of 48 hours notice is required. For Category 3 structures, the fee will be based upon an hourly rate.
Duration of technical approval process:
Westminster and its consultants endeavour to provide an initial response within 3-4 weeks. It is largely dependent on the complexity of the structure under consideration. Acceptance of the AIP can take up to 3 months but can take longer in exceptional cases. Other factors affecting this include the quality of the AIP submission and the designers understanding of highway codes and practices.
Design and Checking Certification:
The Design and Check Certificates shall be signed to declare satisfactory completion of the work etc and forwarded to FM Conway. These certificates shall refer to the relevant AIP by FM Conway, reference number and date of agreement of the AIP. Calculations will not generally be required unless specifically requested by FM Conway.

Technical Approval Certification and other useful forms:-
Please find below links to forms and certificates which must be submitted in hard copy to:-
The Structural Engineer
FM Conway Ltd
25 Mandela Way, London,SE1 5SZ
Tel: 0207 394 3878

Please contact us if you have any queries on the information provided Email
desmond.chew@fmconway.co.uk (tel: 020 7394 3878)
abdi.awale@fmconway.co.uk (tel: 020 7394 3879)