Ward: City Wide
Streets Affected:
Project Type:

Major Projects
Project Overview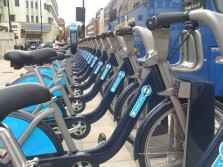 The Barclays Cycle Hire scheme was launched by the Mayor of London on Friday 30 July 2010 and you are now able to register as a scheme user at https://web.barclayscyclehire.tfl.gov.uk/member. Alternatively you can call the Barclays Cycle Hire contact centre on 0845 026 3630 or 020 8216 6666.
Members will need to have activated their key in order to be able to use the scheme, which can be done by visiting the website and signing in to their account or calling the contact centre.
From 3 December 2010 casual users (non members) will have access to the scheme. Anyone with a Visa or MasterCard credit or debit card will be able to go to their nearest docking station and follow the simple on screen instructions at the terminal to release a bike.
If you have queries about the scheme please email enquiries@barclayscyclehire.tfl.gov.uk or call the contact centre. Transport for London have produced a short video clip explaining how the scheme will work and a fact sheet that provides key information about the scheme. You can search for all live cycle hire sites on this map. You can also follow the scheme on Twitter.
Status
Works completed
Outline Programme
Project Documents
There are no documents available for this project
STATUS
On Hold

Design Stage

In Consultation

Works on site

Works completed